There are now plans to add extra panels to the plinths and edges of the bridge so that potential suicides can't climb over at these points, which the previously design would have permitted. Consequently Listed Building Consent is now required. The Haringey project lead on this recently said :

"We are updating the design drawings for Archway Bridge to address some technical design issues and the discussions with the stakeholders (Haringey, Islington councils and TfL). As a result of design changes, a new Listed Building Consent for the proposals for both Haringey and Islington Councils will be submitted shortly. It is our intention to submit the new Listed Building Consent within a week or so. We estimate the application process will take about 8 weeks, if that is the case, we can start work on site in September 2018. If, however, the Listed Building Consent is delayed, this will consequently mean delays to the start date on site."

The application (P2018/1482/LBC) was registered on 9/5/18, comments until 7/6/18.
Yet another test panel has been produced and was tested in situ on the morning of Thursday 4th January 2018. Once again, councillors and local and community groups were not notified.The proposed fence will have a major effect on the appearance of the bridge, and there will be an application to discharge the listed building consent by the planning committees of both Haringey and Islington. Pictures will be posted if we can find any, please
let us know
if you have any! More info on our
Bridge page
.
It turned out that it was possible for a person to climb through the previous test panel, so yet another test panel has been produced. We believe it is being tested in situ on the morning of Tuesday 21st November. Provided that it is not possible to climb through it, it will be signed off for manufacture and installation.
Redesigned Anti-Suicide Measures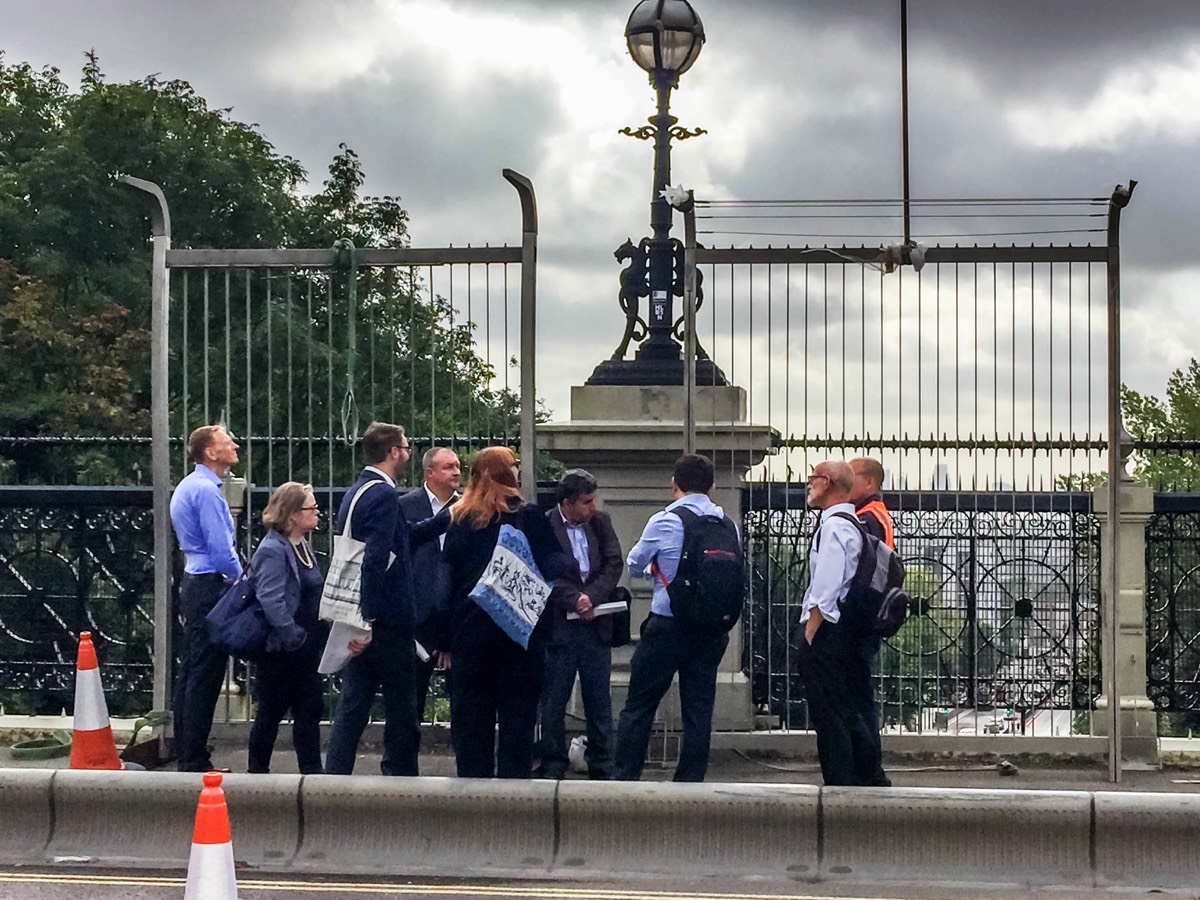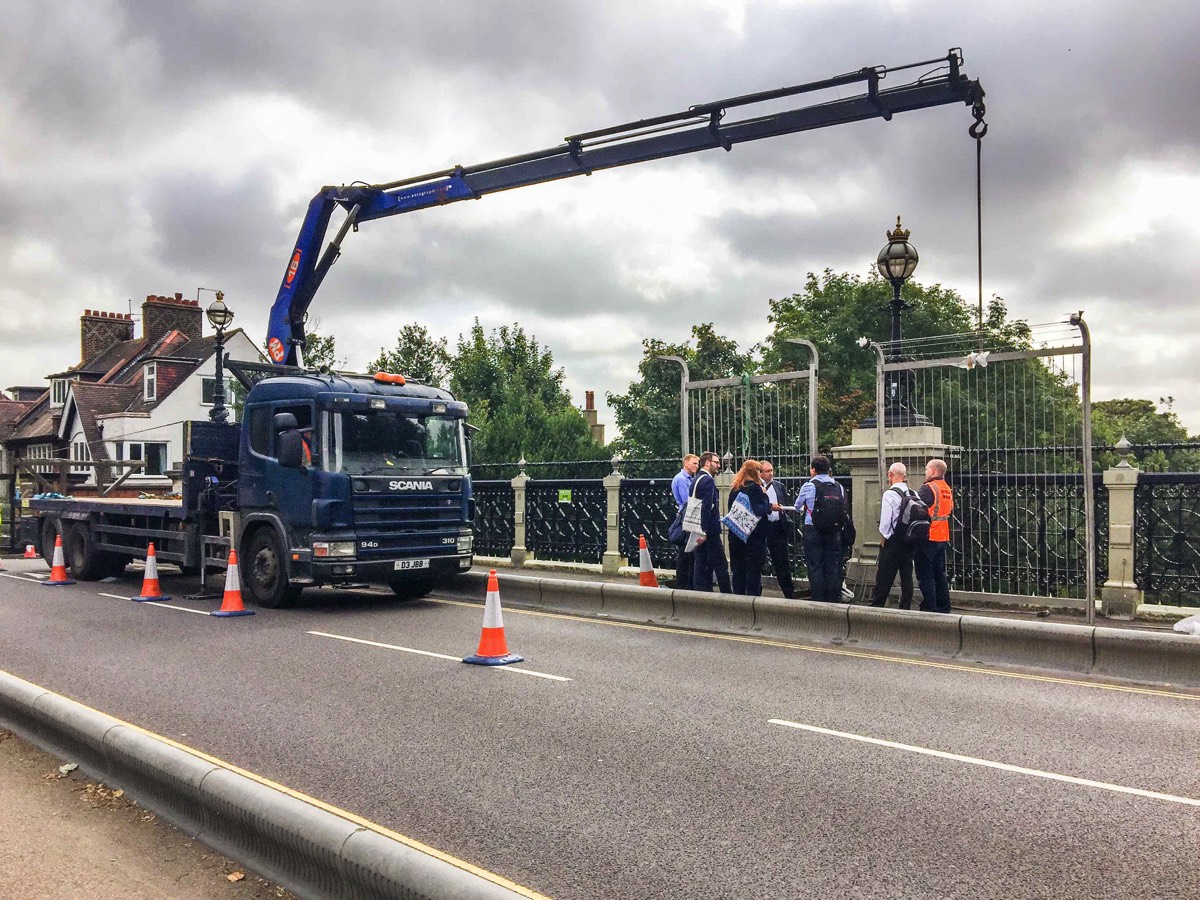 The latest design of the anti-suicide fence for Hornsey Lane Bridge was showcased on 7th September 2017. No further details yet as Islington Councillors and local groups were not informed of the event. Thanks to local resident Angela Tsen for alerting us and sending the pictures.
Pictured from right to left – Catherine West MP, Cllr David Posyer, Dr Janice Gibbons (NHS), Cllr Andy Hull, Andrew Robins (Consultant – Whittington Hospital), Revd. Peter Vannozzi (St Augustine of Canterbury, Highgate), Carol Hansen-Vessa (local resident), Bisi Williams (local resident), Jan Whelan (local resident), Cllr Kaya Comer-Schwartz, Steve Clarke (Vicar, St Andrew's, Whitehall Park), Cllr Paul Convery, Cllr Marian Spall, Jan Tucker (Archway Town Centre Business Group), and Juliet Penrice (Consultant – Whittington Hospital).
Labour councillors, vicars, residents, staff from the Whittington Hospital and others staged a protest on Archway Bridge on 20th July 2017 to demand an end to TfL's delays in installing suicide prevention barriers (click on image for details). Below is their press release:
'Community demands end to TfL's Archway Bridge delays'
Labour councillors, local vicars, local residents, staff from the Whittington Hospital and Catherine West MP, have joined together to demand an end to Transport for London's (TfL) delays in installing suicide prevention barriers on Archway Bridge.
Gathering together at Archway Bridge today (20th July), Islington Labour councillors led calls for decisive action to be taken by TfL to install the barriers as soon as possible. The calls follow another tragic death on 29th June, which saw the Leader of Islington Council, Cllr Richard Watts, declare "I am furious these vital safety measures have not been put in place."
Planning permission was granted in October 2015 by both Islington and Haringey Councils for the installation of suicide prevention barriers along Archway Bridge, which has been the scene of multiple suicides and attempted suicides. Delays have meant that TfL has failed to produce a compliant sample panel of the prevention barriers 21 months after permission was granted.
Cllr David Poyser, Labour councillor for Hillrise ward, said: "Every suicide is a tragedy, especially for the loved ones left behind, and our hearts go out to the families and friends of the victims of suicide. We know these barriers will work in stopping others from taking their lives. It is utterly unacceptable that TfL has not been able to get a compliant sample panel produced, and there can be no more excuses. The strength of feeling about this is clear to see and we need TfL to listen to the community and to make our bridge safe."
Cllr Kaya Comer-Schwartz, Labour councillor for Junction ward and Executive Member for Community Development commented: "The suicides at Archway Bridge could and should have been prevented. There is no justifiable reason why the barriers have not been installed, given that planning permission was granted 21 months ago."
Cllr Andy Hull, Executive Member for Community Safety, added: "This saga has been running for years, and as a council we have done all that we can to help TfL produce the barriers. We have even taken to offering to find manufacturers ourselves. Thankfully, the CCTV we have installed near to the bridge has helped us prevent several suicides, but clearly it is not enough as the tragic death a few weeks ago shows.
"I am pleased that a positive meeting took place this week between Islington, TfL and Haringey. Haringey are now managing the project and are responsible for its delivery, and we will support them in any way we can to ensure the barriers are installed as soon as possible. To help speed-up the process, Islington has agreed to purchase specialist steel needed for the fencing."
Need help?
Please visit NHS Choices website here –
http://www.nhs.uk/conditions/Suicide/Pages/Introduction.aspx
Helplines for those needing support –
Samaritans – 116 123
Childline – 0800 1111
Papyrus (specialists for teenagers and young adults) – 0800 068 41 41
Councillor David Poyser raised the issue of the delay to the work on the bridge at a Full Council meeting on 30/6/16.
Click here
to see the answer he received from Councillor Hull.
A redesigned anti-suicide panel was placed on the bridge for viewing on Friday19th February, attracting unanimous and vociferous condemnation from passersby. The panels require a further minor modification, and will be installed along the length of the bridge in the near future. Enjoy the bridge while you still can, its architectural finery will soon be obliterated.
During the construction of the panel two changes have had to be made, firstly to the thickness of the rods and secondly by adding a cross member to increase the structural robustness, but essentially it looks little different from the plans submitted. There are 3 revised drawings all dated 28/07/15, which are available on Islington's
planning website
under 'related documents'.
A revised design aimed at deterring suicides on the Grade II listed Archway Bridge is being presented to LBI on Thursday 8th October with a recommendation for approval. Whilst everyone wants a solution which will be effective, the previous design was shown to be far from foolproof, and there is no evidence that the latest design has been tested. To show support, or raise concerns, you should email planning@islington.gov.uk, quoting P2014/5019/LBC before the 8th. Download the
Planning Committee Report
, which explains all.
Decision:
That permission be granted subject to the conditions in the report.
See minutes of meeting
. Haringey Council gave the plans the go ahead on 29/10/15.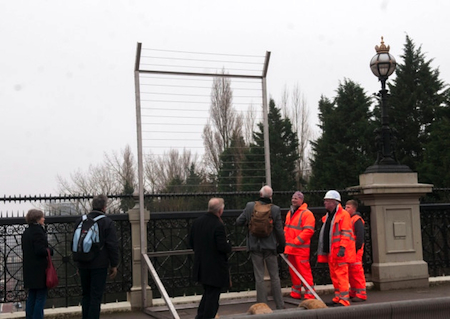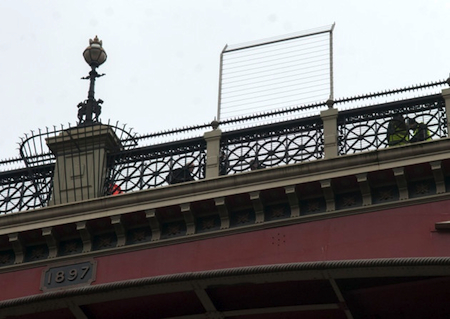 What the proposed anti-suicide fence at Archway Bridge would look like. Photos: Nigel Sutton
The date for comments on the suicide prevention measures proposed by Haringey has passed, but Islington's application (P2014/5019/LBC) is open for comment until 26th February. It includes a building report and heritage assessment for TfL, which you can download
here
.
The proposal, involving large "prison fence" style structures projecting from both sides of the Grade II Listed edifice, has provoked much local debate (see
Ham & High article
). The issue, which has been debated for at least ten years now, has prompted the Highgate Society to propose an alternative design (
see here
). The Victorian Society has made a forceful objection to the proposals, which you can
download here
.
If you would like to comment on Islington's planning application, you will find it
here
.
As we all know, Archway Bridge has a terrible reputation and over many years there have been proposals to reduce suicides here. Haringey, the planning authority responsible, has regularly put the matter to one side. However, they are now proposing to add a perimeter security fence, plus cages over the lamps.
Unfortunately, this seems unlikely to work because the horizontal parts will function as a ladder to climb. And the appearance of a high security zone immediately over the Archway Road will entrench the sense of a troubled area.
Importantly, there has been no local consultation except for a meeting more than year ago including the Highgate Society and TfL but no-one from Archway or the Whittington Hospital Mental Health Unit. Further consultation was requested, as well as evidence of effectiveness, but Haringey said that would not be possible because the matter was urgent. That was 15 months ago.
Now Haringey appears to have simply dusted off that same proposal, reported to have been rejected 10 years ago, and is putting that forward as the easiest option.
There are better alternatives such as a fence inside the existing railings, as on the Clifton Suspension Bridge, and vertical railings above the existing parapets, curved over the pavement at the top (less reminiscent of prisons), and only tied together at the top, so removing any 'ladder'.
The issue is complicated but the current proposal looks like one which will only make matters worse. Representatives from not just TfL, Haringey and Islington but emergency services, mental health trusts, the coroner's office, and more than one local residents group are needed to consider all the options and decide on the most effective solution.
To seek that please write – deadline 26th February - to: Islington:
planning@islington.gov.uk
quoting planning reference P2014/5019/LBC copying councillors
janet.burgess@islington.gov.uk
;
tim.nicholls@islington.gov.uk
;
kaya.comerschwartz@islington.gov.uk
;
david.poyser@islington.gov.uk
;
marian.spall@islington.gov.uk
;
michelline.ngongo@islington.gov.uk
and in Haringey:
planningcustomercare@haringey.gov.uk
(quoting planning reference HGY/2014/3527) copying councillors
liz.morris@haringey.gov.uk
,
clive.carter@haringey.gov.uk
and
bob.hare@haringey.gov.uk
.
(Better Archway Forum)