Councillor David Poyser raised the issue of the delay to the work on the bridge at a Full Council meeting on 30/6/16.
Click here
to see the answer he received from Councillor Hull.
A redesigned anti-suicide panel was placed on the bridge for viewing on Friday19th February, attracting unanimous and vociferous condemnation from passersby. The panels require a further minor modification, and will be installed along the length of the bridge in the near future. Enjoy the bridge while you still can, its architectural finery will soon be obliterated.
During the construction of the panel two changes have had to be made, firstly to the thickness of the rods and secondly by adding a cross member to increase the structural robustness, but essentially it looks little different from the plans submitted. There are 3 revised drawings all dated 28/07/15, which are available on Islington's
planning website
under 'related documents'.
A revised design aimed at deterring suicides on the Grade II listed Archway Bridge is being presented to LBI on Thursday 8th October with a recommendation for approval. Whilst everyone wants a solution which will be effective, the previous design was shown to be far from foolproof, and there is no evidence that the latest design has been tested. To show support, or raise concerns, you should email planning@islington.gov.uk, quoting P2014/5019/LBC before the 8th. Download the
Planning Committee Report
, which explains all.
Decision:
That permission be granted subject to the conditions in the report.
See minutes of meeting
. Haringey Council gave the plans the go ahead on 29/10/15.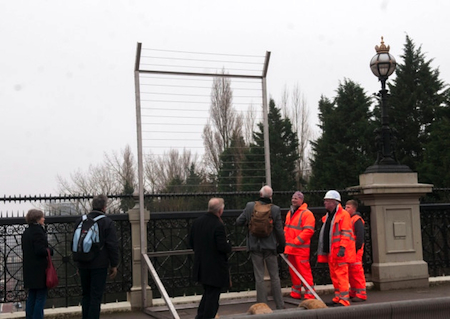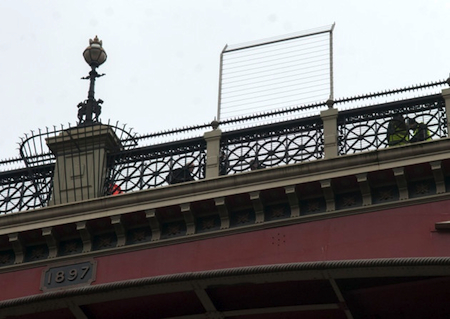 What the proposed anti-suicide fence at Archway Bridge would look like. Photos: Nigel Sutton
The date for comments on the suicide prevention measures proposed by Haringey has passed, but Islington's application (P2014/5019/LBC) is open for comment until 26th February. It includes a building report and heritage assessment for TfL, which you can download
here
.
The proposal, involving large "prison fence" style structures projecting from both sides of the Grade II Listed edifice, has provoked much local debate (see
Ham & High article
). The issue, which has been debated for at least ten years now, has prompted the Highgate Society to propose an alternative design (
see here
). The Victorian Society has made a forceful objection to the proposals, which you can
download here
.
If you would like to comment on Islington's planning application, you will find it
here
.
As we all know, Archway Bridge has a terrible reputation and over many years there have been proposals to reduce suicides here. Haringey, the planning authority responsible, has regularly put the matter to one side. However, they are now proposing to add a perimeter security fence, plus cages over the lamps.
Unfortunately, this seems unlikely to work because the horizontal parts will function as a ladder to climb. And the appearance of a high security zone immediately over the Archway Road will entrench the sense of a troubled area.
Importantly, there has been no local consultation except for a meeting more than year ago including the Highgate Society and TfL but no-one from Archway or the Whittington Hospital Mental Health Unit. Further consultation was requested, as well as evidence of effectiveness, but Haringey said that would not be possible because the matter was urgent. That was 15 months ago.
Now Haringey appears to have simply dusted off that same proposal, reported to have been rejected 10 years ago, and is putting that forward as the easiest option.
There are better alternatives such as a fence inside the existing railings, as on the Clifton Suspension Bridge, and vertical railings above the existing parapets, curved over the pavement at the top (less reminiscent of prisons), and only tied together at the top, so removing any 'ladder'.
The issue is complicated but the current proposal looks like one which will only make matters worse. Representatives from not just TfL, Haringey and Islington but emergency services, mental health trusts, the coroner's office, and more than one local residents group are needed to consider all the options and decide on the most effective solution.
To seek that please write – deadline 26th February - to: Islington:
planning@islington.gov.uk
quoting planning reference P2014/5019/LBC copying councillors
janet.burgess@islington.gov.uk
;
tim.nicholls@islington.gov.uk
;
kaya.comerschwartz@islington.gov.uk
;
david.poyser@islington.gov.uk
;
marian.spall@islington.gov.uk
;
michelline.ngongo@islington.gov.uk
and in Haringey:
planningcustomercare@haringey.gov.uk
(quoting planning reference HGY/2014/3527) copying councillors
liz.morris@haringey.gov.uk
,
clive.carter@haringey.gov.uk
and
bob.hare@haringey.gov.uk
.
(Better Archway Forum)