Our area covers the
CA7 Whitehall Park Conservation Area, which lies immediately below the Highgate-Hornsey ridge, along which runs Hornsey Lane east of the Archway bridge. The area slopes considerably, falling from north to south and includes a variety of properties with differing architectural qualities and styles. Most of the streets south of Hornsey Lane were laid out as a late Victorian residential estate, following the contours of the slope, but in Hornsey Lane, Dresden Road and Hazellville Road there are a few surviving Regency houses. The garage in Sunnyside Road was the coach house of a large mansion, long-since demolished.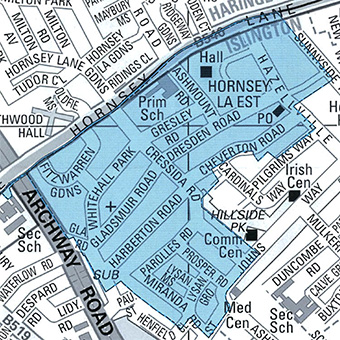 Whitehall Park itself was designated a Conservation Area in 1969; in 1992 and again in 2001 the area was extended considerably, including the so-called 'Shakespeare Roads' and Gresley, Dresden, Cheverton and Ashmount Roads.
There are more details in Islington's
CA7 documentation
and its
Design Leaflet
. For more details about the development of the area see the
History
page.
WHPARA is a Residents Association covering the CA7 Whitehall Park Conservation Area of North Islington. It is run voluntarily by a small group of local residents.
More details
.
Membership is free so if you would like to be added to our mailing list, please
subscribe
to receive occasional newsletters, notice of events and a vote at the AGM.