You can report an excessively smoky lorry or bus exhaust (no other vehicle types) to the Driver and Vehicle Standards Agency (DVSA) through their
website
.
A new council initiative is helping businesses cut harmful emissions and boost local air quality.

Islington Council has launched a zero emissions network (ZEN) in the Archway area, only the second in the capital, as part of its ongoing campaign to improve the borough's environment.

Building on the award-winning ZEN City Fringe project, Archway ZEN will make the area a cleaner, healthier place to work and do business. It will help local firms switch to lower-emission energy and transport options that reduce local air pollution, improve staff wellbeing and save money. The project offers trials and services tailored to the Archway business community.

Cllr Claudia Webbe, executive member of environment and transport, said: "Zero emissions networks are yet another way for Islington Council to lead the way on reducing unnecessary and harmful emissions from our town centres and neighbourhoods.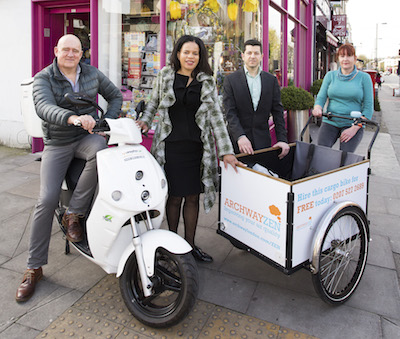 "It makes good business sense to sign up to the ZEN – customers increasingly prefer to deal with businesses that can show they care about their environmental impact and take steps to reduce it, and it helps cut running costs and improve air quality.

"Whether it is helping businesses switch to energy-efficient lighting, or giving them the means to undertake local deliveries by bike or electric scooter, every little helps.

"We have seen excellent take-up by businesses in the City Fringe ZEN in the south of the borough, and it's encouraging to see so many already having signed up to become part of a brighter, more eco-friendly future here in Archway too."

Already some 50 businesses have signed up to the project, including Map Gift Shop in Junction Road. Its owner Ian Morris said: "With the rising costs of energy we thought it would be a good idea, as there would be a financial saving for us. We are looking to change the lighting in the shop, and we also realised that anything we can do to lower the pollution rate locally, the better."

Archway ZEN aims to engage every local business with a variety of incentives including free trials of cargo delivery bikes and cycle training for all staff, free trials of electric cars, vans and scooters, free building energy audits and help finding the cheapest energy tariffs. It also offers grants for cycling facilities and energy efficiency improvements, and free business membership to Zipcar with driving credits.

Second Chance charity shop in St John's Way is looking into the free trial of a new cargo bicycle. Manager Barry Brundage said: "The chance to trial a cargo bicycle could help us offer local deliveries of purchases from the store to customers.

"The deliveries will generate zero emissions, helping us operate sustainably and spread the message of improving air quality in the area."


• The Archway ZEN is a three-year project funded by the Islington Local Implementation Plan and Mayor of London's Air Quality Fund.
WHPARA'S Air Quality Survey
Recent reports have shown that airborne pollutants in London are exceeding EU limits. This is particularly noticeable around high-volume traffic areas and main routes, Oxford Street having the highest levels of the toxic pollutant nitrogen dioxide in Europe. This is mostly produced by buses and taxis; with only 20% of diesel buses having been taken off the road so far, a petition calling on Boris Johnson to clean things up can be found
here
. The A1 through Archway is also a pollution hotspot, so at our 2013 AGM WHPARA decided to purchase ten air testing kits in order to monitor pollutants in the Conservation Area.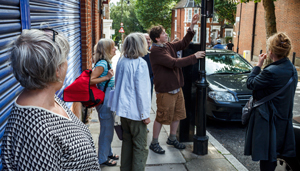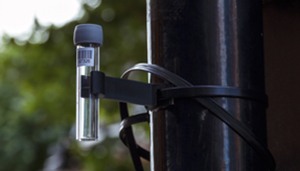 In September this year a group of WHPARA members met in Mum Made to distribute the air pollution diffusion tubes around the area. This is where we put them: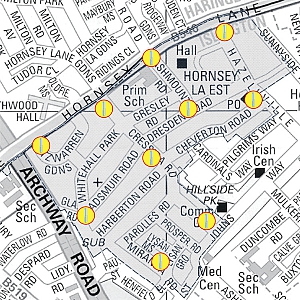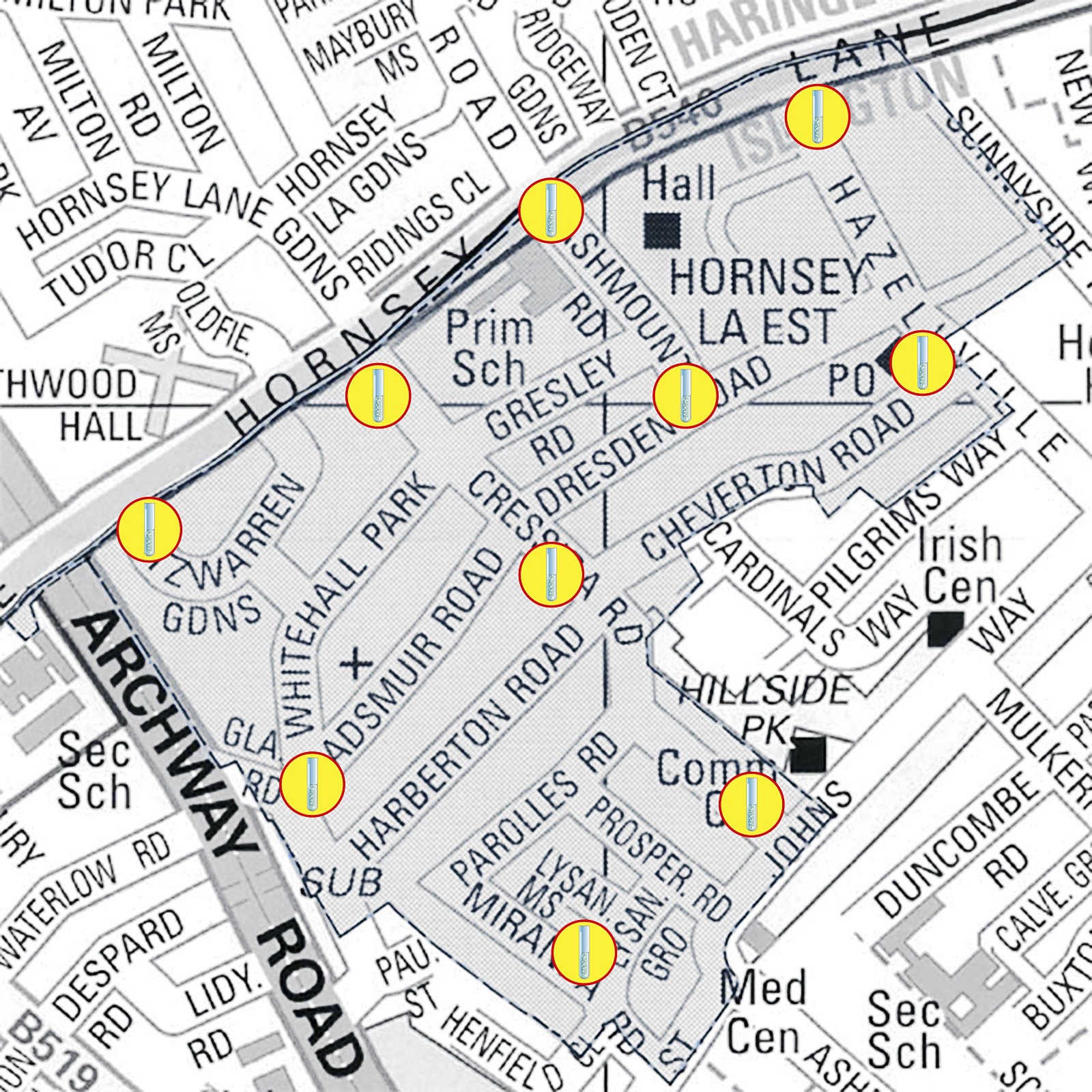 The same group met again a month later to collect the tubes and hand them in, along with their record sheets. These were then sent to the laboratory for analysis, the results of which were received in November. The tubes were designed solely to monitor the level of Nitrogen Dioxide (NO2), which is measured in micrograms per cubic metre. The results are shown below.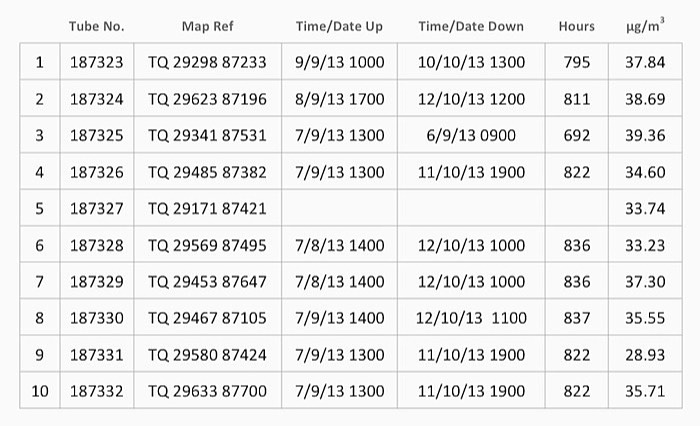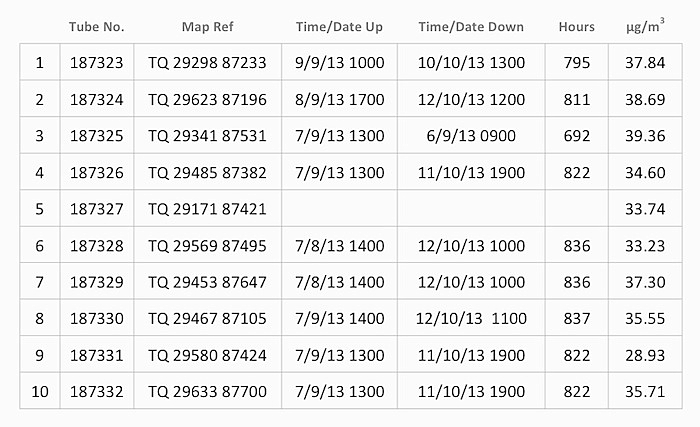 The safe level for NO
2
set by the European Commission and the World Health Organisation is 40µg/m
3
, so you can see that, despite the very high levels seen around Archway Road and the gyratory, our area consistently falls below that limit. The results above have been plotted, and can be seen along with others, on the
Mapping For Change
website.
The tubes were provided by Gradko, who also did the analysis. See their
website
for more info. The full analysis report can be seen at the foot of this page.
---
The Analysis Sheet from Gradko